I am a terrible, horrible, no good, very bad blogger. Ok that's a little harsh, but where the heck have I been for the last week and a half?
No where. That's where. Ever since leaving my job in February, I have, thankfully, been quite busy. Be it with freelance makeup work, travel with my family or boyfriend, friends weddings, and creative photo shoots with like minded professionals, I have just been going and going. Energizer bunny style!
So after getting back from a weekend in Joshua Tree for a stylized wedding shoot (oh you just wait for this one!), I just needed to decompress. And I'm back.
Wednesday means I want to share with you what I'm watching. While I have certainly been wearing out my Netflix queue, I want to show you something I actually saw last year.
I knew I would be hooked when I saw the initial previews for HBO's Boardwalk Empire, and it reeled me in with the first episode. Set in 1920 in Atlantic City at the dawn of prohibition, the show takes you through the lives of good guys and bad guys (and gals) of the empire surrounding the Atlantic City boardwalk. The show weaves a tangled web of crime, passion, loyalty and deceit, all in the most fantastic costumes this side of the 20th century. If you have yet to watch the show, you'll have an easy time catching up before the Season 2 Premiere, likely to be this fall.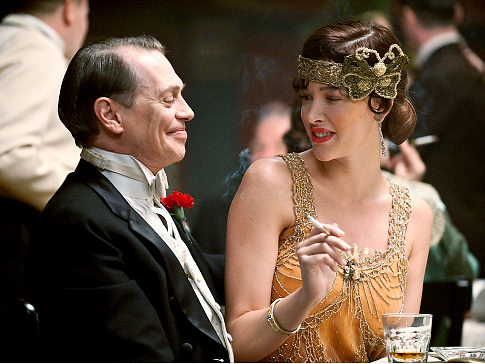 I am such a sucker for behind the scenes photos and videos. If a DVD or BluRay includes making-of features, it is really hard for me to not watch those before the actual movie or TV show. But alas, I love the magic of cinema and truly enjoy losing myself in the world of film. And then I love seeing it all torn apart and being shown all the smoke and mirrors.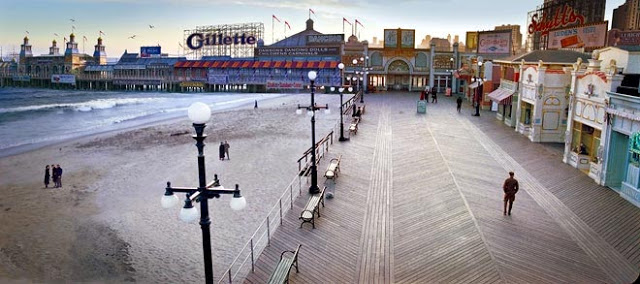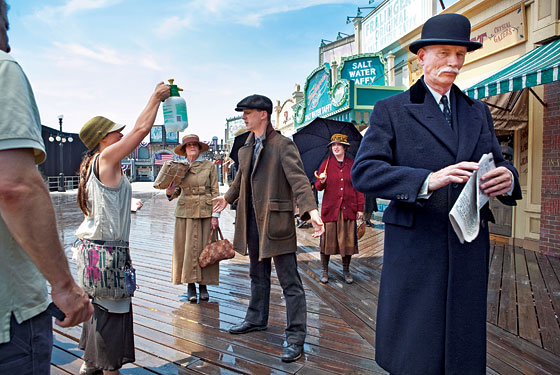 Seeing all the people that are behind the scenes, and witnessing just how much goes into something a few hours long at most just does something for me. I totally geek out when it comes to behind the scenes clips. So when I stumbled upon this four minute gem revealing the secrets of Boardwalk Empire, I knew my initial love for this show could only be magnified by it's movie magic.
Video has been removed
Pretty amazing, right? I knew they had built sets in New York to film the show, but I truly was in awe of how they demonstrate the shots composited with real actors/sets and visual effects. So in tracking down this video again to share here, I came across more videos on HBO's website offering sneak peaks into the making of the show, actor interviews, and more. If you are a fan of the show, or just a fan of this sort of thing in general, I highly recommend heading to the HBO: Boardwalk Empire: Inside site and checking it all out.