Summer means different things to everyone. Lazy days in the sand on your favorite beach, sneaking a smooch from your man on the ferris wheel, and BBQ's with your best friends. Floaty little dresses, pretty pedicured toes, and no fuss hair styles. It also means makeup that won't smudge when splashing around under the sun.
In the coming weeks we will talk about some great waterproof & long-wearing products. Today I want to share some of my favorite removers with you. I am sure some of you have products you never wear because of how tough they can be to remove. Or maybe there are products you've been reluctant to purchase because the term "waterproof" is intimidating. What if you can't get it off? Or worse, what if you mess up when applying it?
Here are some of my favorite removers for wiping waterproof looks clean at the end of those sexy summer days.
MUFE Sens'Eyes - $23
I cannot get enough of this. It is one of only two removers I carry in my kit anymore, and I keep a second one for myself at home. I first discovered it while at the Sephora boutique in Las Vegas. The artist who showed it to me said it's all he uses backstage. I thought, if it works for the long wearing makeup of the desert heat and shimmering looks of sensational showgirls, I knew I needed it. The Make Up For Ever website describes it as a "mineral oil-free gel" to gently and effectively remove eye & lip makeup. This blue beauty takes off even the most hard to remove waterproof makeup, and is lightweight enough for sensitive eyes and contact lens wearers. I just massage a tiny amount over the area I want to remove makeup from, and wipe clean with a cotton pad.
Neutrogena Make-up Remover Cleansing Towlettes $4.49
The second remover I always have in my kit is a package of makeup wipes. I'm not incredibly loyal to one brand, as I am always on the hunt for the most economical choice for professional use. I do always look for something unscented that will be great on all skin types. My current personal favorite are these from Neutrogena. One towelette is sufficient to wipe your whole face clean, and gentle enough to use around the eyes to get off stubborn, water-resistant mascara and liner. I'm sure you are all in the good habit of washing your face at night, but for those summer nights where you are too tired to go clean up, a pack of makeup wipes in your nightstand can save you from the consequences of sleeping in your makeup. They are a great option for travel as well, since they are easy to pack and won't get you in trouble with the TSA.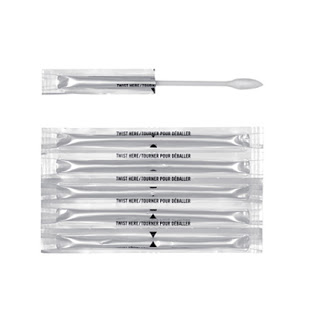 MAC Cosmetics Cleansing Tips
While compiling this post, I knew I had to include the Cleansing Tips from MAC. I always have these tucked in with my brushes, one or two in my purse, and I love giving them to my brides. However, I went to the MAC site to get the specifics to include here, and they are no longer listed. WHAT? Are they discontinued? I want to cry. It's a simple product. Cotton swabs pre-soaked in a gentle, yet extremely effective makeup remover, individually wrapped for ease-of-use-on-the-go. The quintessential product for fixing minor goofs when applying perfect waterproof winged liner! Great for so many things, I can't imagine they are gone. I thought maybe I shouldn't include them here, since they are no longer available for purchase. But I trust you are all super savvy and creative, and can use your favorite remover in such a way to clean up those gorgeous summer makeup looks you will be rocking. And if you happen to find something similar out there, I'll be waiting patiently to hear all about it!
What are some of your favorite makeup removers?
Photos: Free People Blog, Make Up For Ever, Harper's BAZAAR