As a professional makeup artist, I always love learning about and trying all types of products. Not only can I make informed choices about what I use on my clients, but I can also stay on top of trends and know what's out there for the consumer.
I recently received a couple of products from BzzAgent I'd like to share with you from the new NatureLuxe line from CoverGirl: The Silk Foundation and the Gloss Balm.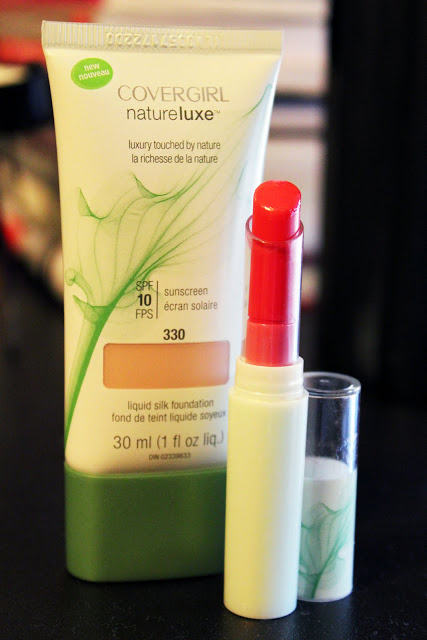 Foundation Shade #330 and Gloss Balm in "Anemone"
CoverGirl describes these as "luxury touched by nature." Do I agree? Sure. The product feels luxurious, with added natural ingredients, for a drugstore price point. I personally tend to shop boutique and department stores for my personal makeup, saving the drugstores for the occasional trendy nail polish shade and my trusty L'Oreal Voluminous mascara. The CoverGirl Liquid Silk Foundation retails at $11.99, while the Gloss Balm is $6.49. Not bad for something that I would give a thumbs up to if you were looking for an inexpensive, every day makeup.
Let's talk about them individually.
The Silk Foundation contains cucumber water, jojoba, and rosehip extracts. These all help to create the silky luxurious feel of the makeup. It is labeled as oil-free, has an SPF of 10, and is dermatologically tested. It comes in 14 shades. Not the most extensive range, but I think it covers a decent variety of skin tones. The shade I received is much too dark for me, as I am normally in the lightest shades with pink undertones, so I don't have a photo to share of me wearing it. Luckily I had an airbrush tan when I first got this in the mail, and it was actually perfect at the time. A rich neutral comparable to an an NC30 or NW25, or a Medium/MediumPlus in MAC foundations.
The Gloss Balm is sheer in color and really smooth like a slick lip balm. It has the shine of a mellow gloss, without the tackiness or thick feel. It is an incredibly hydrating blend of mango and shea butter that left my lips soft during and after wear. It boasts an SPF 15, which is pretty standard for lip products with sun protection. The shade I tried, "Anemone," was the perfect sheer pinky red. The above photo shows a few swipes on bare lips. No liner or other products with it. I was impressed with the color payoff, as most tinted lip balms fall short in the pigmentation. One coat seems more like a flushed watermelon color, while a few layers leaves a shiny summery red like pictured above. Gloss Balm is available in 16 shades, ranging from neutral to bold for a variety of skin tones.
So what do I think?
While I won't be carrying these products in my kit for professional use, I would definitely recommend them to the average consumer. CoverGirl has always been geared for every woman, at every age. And I feel confident suggesting these to my clients who are looking for makeup that feels like a luxury brand, but fits a smaller budget. The Silk Foundation covered really well, and looked natural. However, I'm more of a powder foundation girl myself. It would take a miracle to make me love a liquid or cream foundation. The Gloss Balm is something I am actually really excited about. I love lipstick! Bright, matte, fun lipsticks. But most days I stick to a clear lip balm with SPF, as I tend to burn easily and just want protection. I normally would not have purchased something like this. If I want color, I want color. All or nothing! Until now. I could see this being a great addition to your summer makeup bag. What an effortless and comfortable pop of color to wear to the beach or a BBQ. And for women who usually shy away from lip color altogether, this is a great product to ease into color without feeling overwhelmed.
I leave you with a quick behind-the-scenes look at the making of CoverGirl NatureLuxe ads with spokeswoman, Taylor Swift. Because we know how much I love behind-the-scenes and making-of features. And we know how much you love Taylor Swift (because really, who doesn't love Taylor Swift?).
Photos: Me
Shop/Learn More: CoverGirl