There is so much to be grateful for this week! I kicked off Sunday with not one, but two great bridal makeup trials. Then one of my best friends was in town with her wonderful husband, so we hung out at home, walked to get pizza, and played the office board game out on the patio late into the night. Monday I had another great bridal makeup trial, and then spent the afternoon thrifting with my love.
Sometimes you can hit multiple stores in a row, and come up with nothing. And sometimes, you stumble upon a pair of Jeffrey Campbell 99 Booties in the middle of Buffalo Exchange in a beach town! They were practically jumping off the shelf and into my arms. How had no one snagged these?? They are a size too big, so I'm hoping insoles will do the trick. If not, to Ebay they go to make someone else happy. The excitement of just spotting them might be enough to satisfy me. The thrill of the hunt if you will.
In another shop, I found a cute pair of flat black boots for only $6.00 ! I am currently on the lookout for functional and fashionable shoes everywhere. I've decided it's a big priority for "the big move" in the fall. These are just roomy enough for cozy socks, and basic enough to dress any outfit up or down. NYC, here come me and my happy, warm feet!
My future self has also decided that hand bags will be a great way to change up the same old outfits. So this little coral find for $8.00 will be added to that slowly growing collection!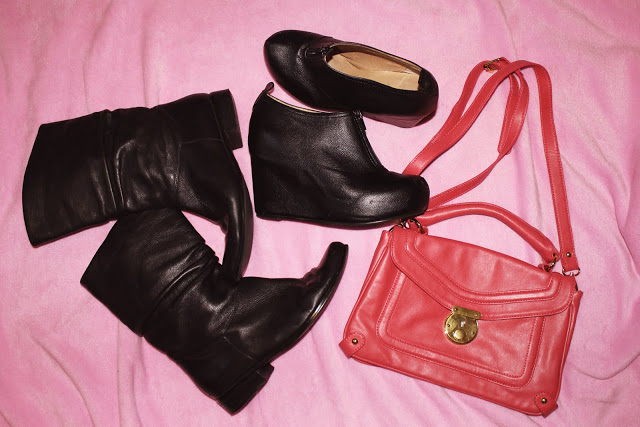 I also am so thankful to have gotten word on my Pro membership status from Makeup Artist Magazine. You might remember my post about IMATS, and it is now just days away. I will be able to pick up my Pro Card on Friday night before the card-holder exclusive event! Then throughout the whole weekend, my Pro status will give me access to pro-only only areas, cutting in line(!), and various other perks. I also can't thank the nice folks enough who promptly responded to my incessant emails. They were so kind and helpful! I will be sure to share my experience at Friday's event, as well as the whole IMATS weekend.