Mid last week, I saw an ad pop up on Craigslist seeking a makeup artist for all four days of Comic-Con International: San Diego. This year marked the convention's 42nd year, drawing over 120,000 attendees to see the latest in the comics, video games, sci-fi, tv and film worlds. Quite a big change from the small comic book convention it started as with just a few hundred people.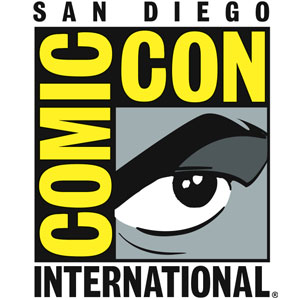 Over the last few years, I missed out on chances to do makeup during the convention. So this year, since I am now afforded the freedom of making my own schedule, I decided I was going to make it happen. And make it happen I did. When I saw the ad on Craigslist, my first thought was that it sounded too good to be true. But sending an email couldn't hurt. I got a reply quickly, stating that my work looked great, and could we chat on the phone. So after a quick talk about who I am, what I do, and what the job entailed, I was offered the gig. A few official forms later, I was good to go.
So I ended up working early morning before convention hours, doing makeup for two great girls who would be at the Indomina booth to promote Afro Samurai (a comic, tv series, and film), Griff the Invisible (a new superhero movie), and a few other things. Upon starting makeup last Thursday, the first day, I was asked what my schedule was like on Saturday. There was another job they were looking to find a makeup artist for.
And this is how I ended up discussing toast and jam with Ryan Kwanten.
So in a nutshell, Saturday went like this: makeup for my Afro Samurai girls, then a shuttle from the Sheraton Harbor Island to The Hard Rock Hotel to meet up with Ryan Kwanten (the actor who plays Jason Stackhouse on one of my favorite shows, HBO'sTrue Blood). The day would consist of him being on the panel/Q&A for the upcoming movie, Knights of Badassdom, an autograph signing for Griff the Invisible, and various other events and activities throughout the day. So it was my job that day to get him looking his best.
Men's grooming can seem simple, but is actually some of the toughest work for a makeup artist. Men need to look good, but as if there is not a stitch of makeup on their face. It usually consists of concealing darkness around the eyes, keeping brows and facial hair from being too unruly, taking shine down without being powdery, and styling hair to look effortlessly fantastic. So that's what we did. And since we were meeting in the morning, breakfast was a necessity to gear up for his long day ahead. So while I got to work, he multi-tasked with slices of toast and a review of his schedule. I won't reveal all the details about my morning (I mean hey, I'm a professional here, I can't be giving away his beauty secrets!), but I will say that we wholeheartedly agreed that orange marmalade is a terrible choice for toast topping.
Other highlights of my weekend included getting passes for Sunday after I was done working in the morning. My boyfriend and I walked around (read: I tried my hardest not to get knocked down in the crowds, as I am short and clumsy) during the morning and checked out the booths.

Then we got in line just in time to get into all the panels we wanted to see. First, The Cleveland Show (so cool to see real people doing recognizable character voices live), It's Always Sunny in Philadelphia (complete with costumes, a full screening of a hilarious episode from next season, and a live rendition of Day Man), and Sons of Anarchy!
I also hear at some point during the weekend, the Playstation 3 video game I worked on earlier this year,Twisted Metal, premiered its trailer and opening live-action cinematic! But more on that later when the game launches this fall.
In addition to Comic-Con madness, I somehow also squeezed in two beautiful weddings, a long overdue sushi date with my love at one of our favorite spots, and some serious mid-morning naps. A girl's gotta do what a girl's gotta do. One of the busiest weekends I've had all year, but definitely one of the best so far!