One of the best things about going to IMATS is being able to attend classes, demonstrations and open forums with top brands and makeup artists. I went to many during the course of the International Makeup Artist Trade Show weekend. Stay tuned for more details of those later.
For now I wanted to share with you a gift I received from Stila Cosmetics! They were hosting a fashion show to present top seasonal trends and some of their favorite makeup looks for every day and special occasions.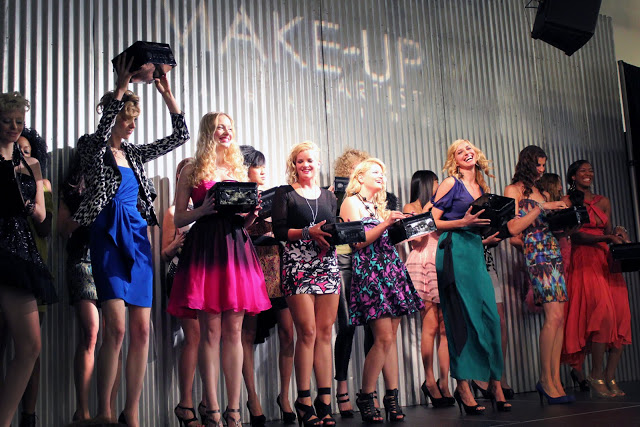 The show was fun and lighthearted, with really pretty makeup looks. But the best part was that the first 100 people seated got a little swag bag!
I love free goodies! Don't you?
So I may or may not have tore open the lip gloss and put it on immediately. Who am I kidding, of course I ripped it open! I just can't resist a pretty peachy pink. Kryptonite, I tell ya.
The Stila Lip Glaze is something I hadn't tried before, but I will probably buy for myself in the future after using the one I received gratis. There is something about the twist-up clicker I just find fun. Product comes into the brush tip applicator when you click the pen just once or twice. Then apply it just like using a nice lip brush. No doe-foot applicator here! I mean really, I never get product on with those stiff spongey tips anyway. This is smooth, silky and slick, but not at all sticky.
The color I received is calledGrapefruit, and though very sheer, it still polishes the lips nicely and smells great. Definitely two thumbs up from me.
So since I know you must love to get free stuff as much as I do, I want to give YOU the other item that came in my bag from Stila! Up for grabs is their Smudgestick Waterproof Eye Liner, in Blue Ribbon, retailing at $20. It's a subtle, shimmery, navy-grey color. A great alternative to your usual black or brown, as blue is great for brightening the whites of your eyes! I've played with these pencils before, and they are so creamy and easy to apply, and last all day! Plus, it twists up, so no messy sharpener required.
Win this!
To be entered to win a Stila Smudgestick Waterproof Eye Liner in Blue Ribbon (and an extra little surprise from me) all you have to do is:
1)Follow this blog with Google Friend Connect. It's just to the right of this post in the side bar.
3) Leave a comment on this post telling me what your must-have product is.
Done those three things? Awesome! One winner, chosen at random, will be announced next week.
You can enter any time from now until 11:59pm PST, Friday July 8th, 2011.