I hope you all had a great Independence Day weekend. I know I did! The long summer days were filled with going to the San Diego County Fair, grilling many meals on the BBQ, bike rides at sunset, fireworks, and spending some time in the sunshine out by the pool.
If you're like me, you still like to look your best when the temperatures start to rise. Whether you like to wear more natural looks, or like to have fun with color, your makeup shouldn't have to suffer under the sweltering sun.
We have had some incredibly hot (and humid) days lately. As I sit here writing this, I should be getting ready but I am having trouble finding the motivation to even take my hair down. Say hello to Model in a Bottle.
These babies came home with me fromIMATS during the pro-only night, and I had a chance to talk to the product's creator, Jill Stephens. I had heard about these products previously, and was excited to check them out. She let me know how they work, and that they are truly designed to help all types of makeup last all day, helping you look great no matter how long your days are.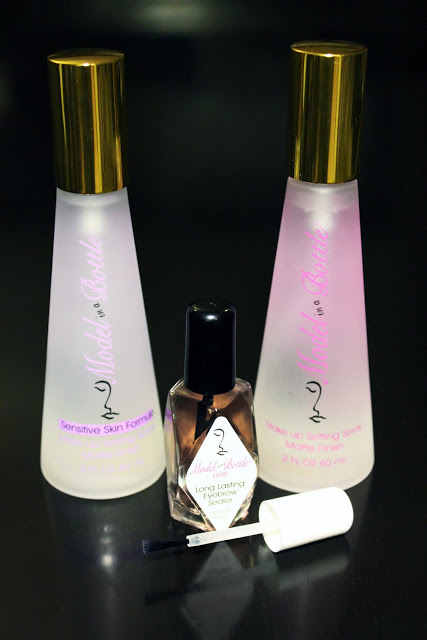 Sensitive Skin Setting Spray, Eyebrow Sealer, and Original Setting Spray
The setting sprays are fabulous. They are designed to resist tears, water, and humidity (hello summer heat waves). One is the Original Formula, with a matte finish. The other is a Sensitive Skin Formula, designed for drier, irritation prone skin, and contains lavender to calm and aloe to hydrate.
Both are great additions to your personal makeup stash, or great to have in your kit. I used both the Original and the Sensitive Skin formulas over the holiday weekend, and I love both. I find the Original to work better for me, as I am on the oily-skin side of the spectrum, and it stays more matte than the Sensitive formula.
Both formulas really do help to comfortably "freeze" your makeup in place, and got the seal of approval from a huge wedding party I worked with on Saturday. I highly recommend this product.
Now, if we really want to talk about freezing makeup in place, I must talk about the Long Lasting Eyebrow Sealer. Maybe you fill your eyebrows in, maybe you don't. In any case, no one likes a messy brow.
They are the key to a polished every day look, and my biggest pet peeve professionally. Bad brows are a big beauty blunder!
I was sold on this product when creator Jill Stevens invited me to actually feel her eyebrows at IMATS. Sure enough, they didn't budge. I suggest filling in sparse areas with shadow or pencil, and then applying the Eyebrow Sealer over top. It has a brush tip, as well as a mascara-wand tip. The best part is it won't flake off, and is easy to remove when washing your face. Perfection all day!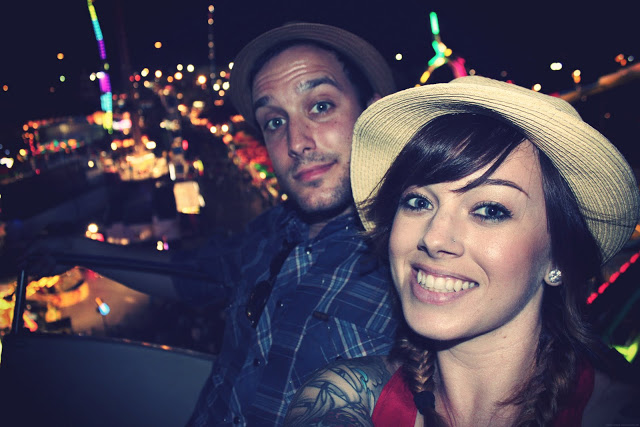 The best test of these products was a day at the fair last Thursday. It was H-O-T hot! But having set my makeup with the Original Formula, and my brows with the Eyebrow Sealer, I was still in great shape by the time we hit the ferris wheel at closing time.
Model in a Bottle's creator, Jill Stephens, was inspired by her beauty-role-model mother. According to the product website, her mom would always say, "There is no place more important than where you are going right now."
So I ask, where are you going right now? And are you looking your absolute best?
Also, don't forget to enter the contest I posted a few days ago. It ends this Friday.
Shop: Model in a Bottle