I know I have mentioned it here or there, but never in detail really until now. If you follow this blog and don't know me well, you might not know that my boyfriend and I are planning a pretty big move in just a couple months.
San Diego to New York City. I grew up here. He grew up in New Jersey. I've always wanted to go. He's always wanted to go back.
So here we go.
This week's edition of things to be thankful for is going to be short, but sweet. It's crunch time, so forgive me if I'm distracted these days! Lots of things to go through, give away and sell. Plus I still have clients and various freelance work, and friend's weddings all the way up to the end of September. But come the first week of October, we will be in the car somewhere around the mid west, en route.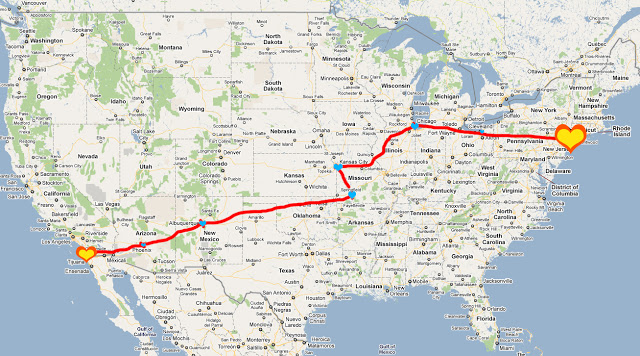 Our approximate route, with quick stops for lunch and/or overnight stays with friends and family.
Bits of gratitude and thanks for this week: places that let you take their cardboard boxes (thanks nice gal at Starbucks), friends with long-distance moving experience who are filled with good advice, getting to shoot with Noa of Feather Love Photography for the first time over the weekend (she just oozes contagiously happy, creative energy and is so stinkin' talented), starting to read Tina Fey's book Bossypants, Harry Potter and the Deathly Hallows: Part 2 (I'll be seeing it later this weekend but I can't believe it's all coming to an end!), purging material things (it just feels so good! why do we wait until moving to do this??), and last but not least, finally organizing all my real and digital scraps of saved DIY projects-to-come because I cannot wait to get cracking once we get settled into a place!
I'll send you off with a link to a post about gratitude on one of my favorite new sites, Hello Giggles. If you're not already a fan, you need to get to clicking and check it out, you will thank me later! It's run by actress Zooey Deschanel and friends, and in a nutshell is a site full of articles written by the kind of girls I would love to be friends with.
In this post, contributor Marissa A. Ross writes a thoughtful and poignant piece about being thankful titled, The Key to a Happy Life: Eight Ways to Practice Gratitude. Give it a read, I couldn't have said it better myself.