The time has come! Our out-of-this-world love story "Astronomical Twilight" is featured on Green Wedding Shoes today!
It is one of the best blogs around when it comes to trend and style for one-of-a-kind weddings (you might remember my friend's April wedding was featured there too, and I shared it here). All of the hard work our team put into making an amazingly unique wedding photo shoot happen has paid off ten fold.
I wanted to share all about our experience right after I got back, but we didn't want to spoil it on the chance it would be published on an amazing site like Green Wedding Shoes.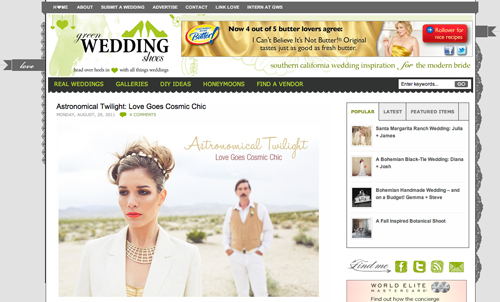 I was asked to be a part of this shoot early in the year, and when the initial ideas were expressed, I knew I had to be a part of this. Inspiration from galactic imagery, planets, and non-traditional attire and styling? Sold!
I had so many ideas for makeup, but actually ended up letting the beauty of the landscape lead the way.
More on that later this week! The location alone sounded so mysterious: "the Integratron is an acoustically perfect tabernacle and energy machine sited on a power geomagnetic vortex in the magical Mojave Desert." What a cool site for a photoshoot! And I wish someone had actually gotten married because it was seriously stellar.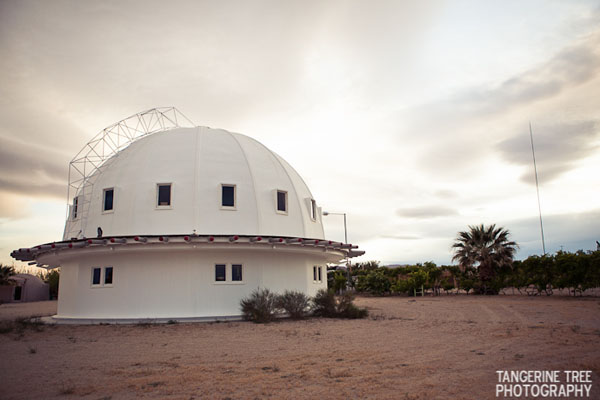 I had never done a styled wedding shoot before and was so excited. It consists of putting together every element of a wedding and photographing it, but no one actually gets married. I feel so lucky to have been a part of this vision, because every single person involved is a true artist in their industry. With so many creative personalities, you'd think there would be some bumps along the road. But honestly, everyone's ideas flowed and intersected so organically, it was something I can't even describe.
I feel honored to know and work beside these people! Enough mushy talk, on to the behind the scenes photos! Here's a look at the making of this magical shoot.