Hi loves. Ok so I'm no poet. But it is raining, and actually pouring. I hear talk of snow being a possibility this weekend? My west coast wardrobe is failing me miserably. There is no old man snoring, or drinking fair trade coffee for that matter. But I am! Not the snoring part!
So I usually like to focus my posts here about the makeup industry, my travels and adventures, and when I write a review of something it's about makeup or beauty products. But it's my blog and I'll do what I want!
I love coffee. Even if it doesn't totally wake me up, there is something satisfying about an iced coffee while out running errands, or a warm mug on a cold day. And
I almost always grab one on my way to a makeup job. I always get offered champagne when I show up to do makeup for a bridal party, and for the most part I don't think it's professional while working. So it's easier to politely decline when I already have a beverage to sip on.
But a girl can go broke with a bad coffee habit. So I am more motivated than ever trying to save money to live in New York City to just start trying to make it at home!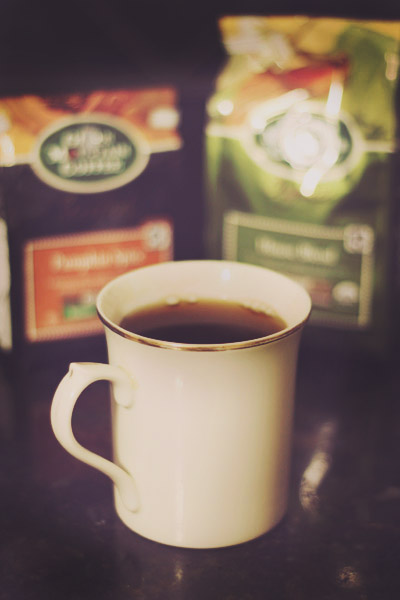 I was recently sent some Green Mountain Fair Trade Certified Coffee to try out.
I'll be honest, sometimes I'm a lazy consumer. There I said it. But who isn't? I like to consider myself pretty with it and environmentally aware. I do my part. But this is an important issue, and October is Fair Trade Month! So go make yourself a cup of joe and check out some information about Fair Trade and my take on this tasty stuff.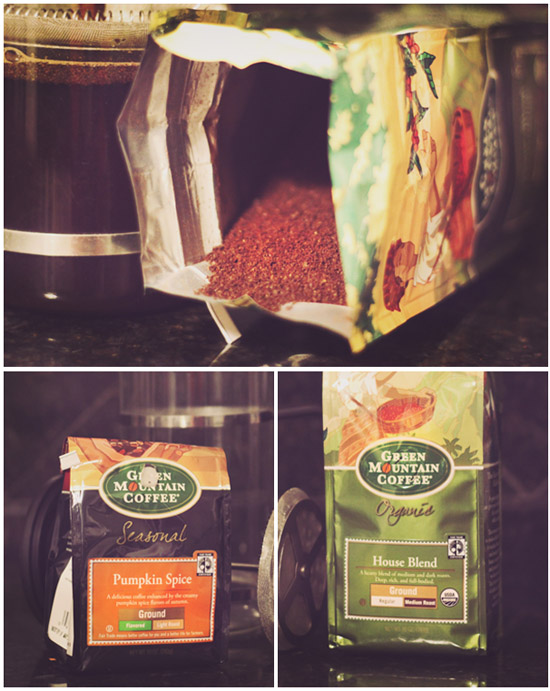 What I thought of Green Mountain Fair Trade Coffee:
The last time I bought a cup of coffee was at a Starbucks during our cross-country drive. And I had a gift card. I know they offer fair trade options there, which is great! But let me tell you, I have enjoyed coffee from a variety of places since being on the east coast. And most of all, I have been making it at home. My package containing Green Mountain Fair Trade coffee for my review arrived literally days after we got here. So I have had a few weeks now to enjoy it. We are staying with my boyfriend Jay's grandparents for the time being, and they have a french press that I've been using.
This coffee is good. I mean, really good. The taste isn't too strong, and it works well even chilled over ice.
The Organic House Blend smells rich enough to wake up a full household on a Sunday morning. And it tastes just as good, with a bold taste still light enough to drink black.
The Seasonal Pumpkin Spice is great. Clearly, as the bag is nearly empty! It doesn't taste sweet like a dessert, which I can really appreciate as most flavored coffees do. But it still has enough of a dessert feel that I love sipping a cup of it while reading a book after dinner. I've been enjoying it with a little bit of almond milk mixed in, and Jay (who is not even a coffee drinker) has liked it over ice with a little splash of pumpkin spice creamer.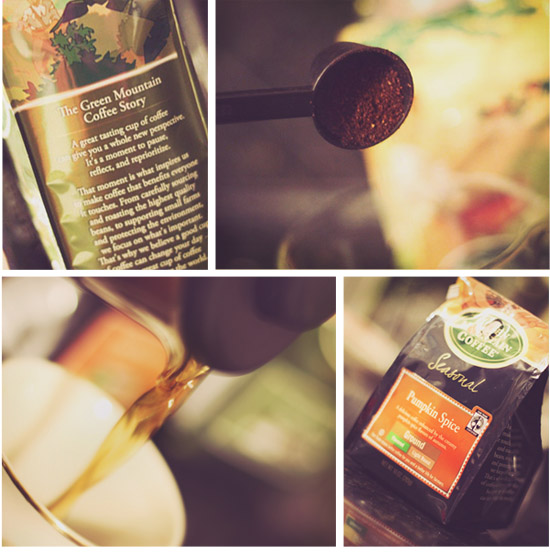 What's the deal with Fair Trade? There are so many sources of information out there that can explain it better than I can. To learn more go to Fair Trade USA to read about the organization's mission as a whole, and visit Green Mountain's site to see how they are working to "brew a better world." But in general, Fair Trade farms have strict labor laws, business practices, and environmental standards that not only ensure a better quality and better tasting product, but fair treatment of workers too.
And work is being done to build up the Fair Trade communities to enrich the lives of the people in them, including new schools, scholarships, and businesses to grow their economies. Do some research elsewhere too! We are lucky enough to have information literally at our fingertips, and it's really interesting to see the how it all comes full circle.
If you'd like a chance to win a gift bag filled with Fair Trade certified goodies, check out this post from one of my favorite bloggers, Bonzai Aphrodite.
She has also shared a quick video that explains it briefly and perfectly in only two minutes. I urge you to go watch it, and enter to win the gift bag she's giving away!
And if you're thinking of making some Green Mountain Fair Trade Certified coffee at home, use the code BETTER-4ALL at checkout on their website for $2 off certain items. And like them on Facebook where they share the most current deals and coupons.
I received these samples as a BzzAgent, and was received no compensation for this review. Just sharing my thoughts!