Hi my lovely readers! Happy October!
Time just seems to be flying by. And my brief hiatus can be explained only by letting you know I now live on the east coast! Yes, we did it! We moved! I had so many posts planned for you so I wouldn't be absent during the last few weeks, but time is a tricky little bugger and I never seemed to find enough of it in the weeks leading up to us loading up that truck. But I am back! And Fall is too, and that means a shift in your wardrobes, both clothing and makeup.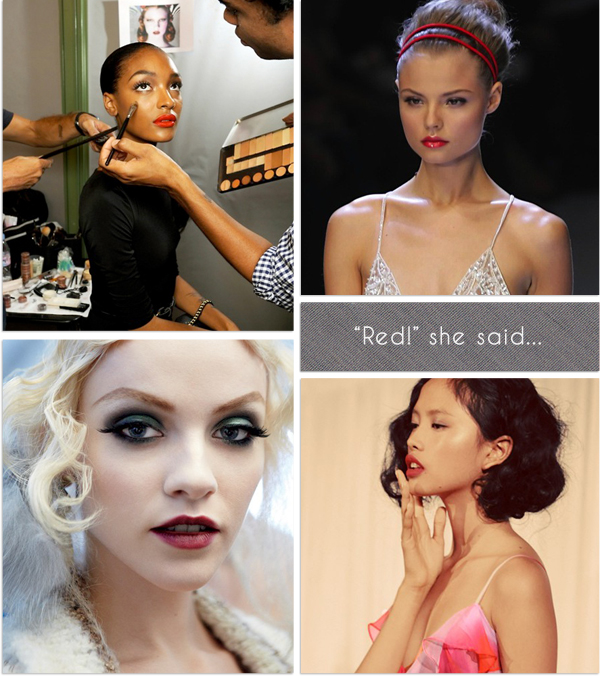 Let's talk about lipstick.
As the leaves begin to change, so do my go-to lipstick colors. I have been addicted to reds lately, just as I love my pinks and corals in summer. But I know not everyone is as comfortable swiping on a bold shade. I posted a question to my Facebook page asking your thoughts on wearing a bold lip.
Hopefully the following tips will help guide you to a great lip color for the season.
How do I find the right shade?
Red can be bright and bold, dark and moody, glossy or matte, sheer or opaque. There are endless options so it can definitely feel overwhelming finding a shade. I always liken searching for lipstick shades to the process of finding the right jeans. You have to try a few on before you find the perfect fit. Don't get discouraged!
For skin with pink undertones, blue based reds tend to be more flattering.
For olive/golden undertones, reds with orange/brown undertones will be more flattering.
For darker skin tones, I have found that you really have your pick! But deep burgundy and berry shades are extra flattering!
Really, wear whatever you want! But if you're just starting out, that should get you in the direction of a color that will no doubt look good with your skin tone.
Do I need lip liner?
Yes. And no. This really depends on the finish of your lipstick. Yes it will help keep your color on, and keep it from bleeding and feathering. Do you need one? Maybe. On one extreme, matte and opaque shades will stay put either way, but to get a clean sharp edge, a liner is absolutely necessary. On the other hand, glossy and sheer shades can be more forgiving in the application, but are more likely to feather as the formula doesn't dry down completely.
I find as a general rule when wearing bold shades that liner can really only help you in the long run. Invest in a good red pencil. It can't hurt.
Should I pick a matte shade or glossy? Should I go sheer or opaque?
This is ultimately up to you.
Do you feel pretty in it? Do you like the way it feels on your lips?
Do you want staying power or just something light you can throw on as you head out the door? I talked a bit about formula while discussing lip liner. The more matte (and often opaque) the shade, the more staying power it will have. If you're not sure, start with a red gloss and as you get more comfortable with wearing a bold color, layer a lip liner underneath the gloss to bump it up a notch. Then transition fully to a lipstick instead.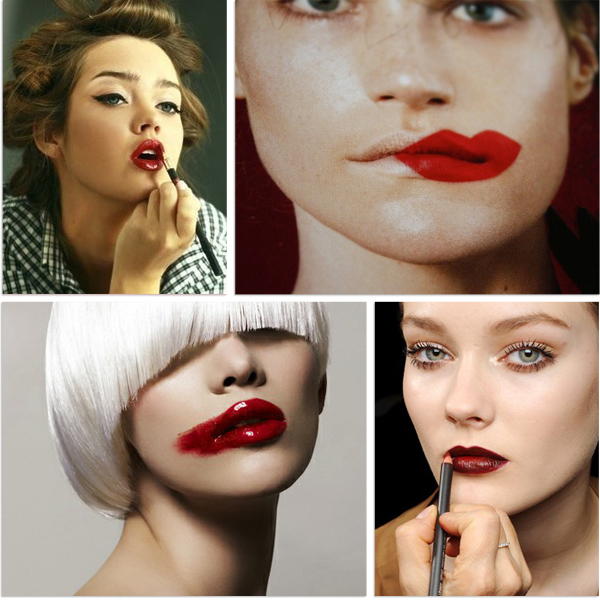 Ok, so how do I keep it off my teeth? And the rest of my face for that matter?
There are a few techniques to help with this. As far as keeping it on your lips, and not the rest of your face, lip liner is the best tool. It creates a barrier around the edge so your lipstick doesn't travel away from your perfect pout.
Also, blot and powder. This is as old school as it gets. Apply lip color, then blot with a tissue and dust a translucent powder over top. And if you wish, apply a second layer of color after.
And the tip that always makes my bridal clients laugh and say, "you want me to what?" when I show them...after applying your lip product, take your clean index finger and put it in your mouth. Straight in like a popsicle, and wrap your lips around tight. When you pull your finger out, there should be lipstick on it. Wipe clean. That was all the stuff that would have ended up on your teeth! A fellow artist friend showed me that years ago, and it works wonders! You can use a rolled up tissue too, I suppose, but any time I have done that, I just end up with tissue stuck everywhere. Your call!
I love the look of red, but I feel like I can never get the rest of my makeup balanced. How do I make it work?
A bold lip is really an accessory in itself.
So as a good rule of thumb, don't pile on a bunch of other (makeup) accessories too.
Clean, perfected skin, and well groomed, defined brows are the most important pieces to making red lipstick work.
Take the time to conceal and brighten under eye circles, and to disguise redness or discoloration in your skin. A sweep of natural cheek color to define bone structure is good. Tweeze straw brow hairs, and lightly fill in the arch to define a nice shape. Brows are so important I might have to dedicate a future post just to them. But for now, just make sure to pay attention to them in some manner. A lush, dark mascara on your lashes is a good idea too.
From here it is up to you. It's the difference between wearing jeans, a t-shirt, and converse, and wearing jeans, a flirty blouse, and your most catwalk worthy heels. Winged liner? Sure. Smokey eyes? If you're feeling edgy. Soft smudgy brown liner? Subtly sexy. False lashes? Sex kitten status.
Just remember, start with the basics of perfected skin and face-framing brows, then let your personality and mood determine the rest.
You can always add more, but it's hard to take away. Start with less, and build.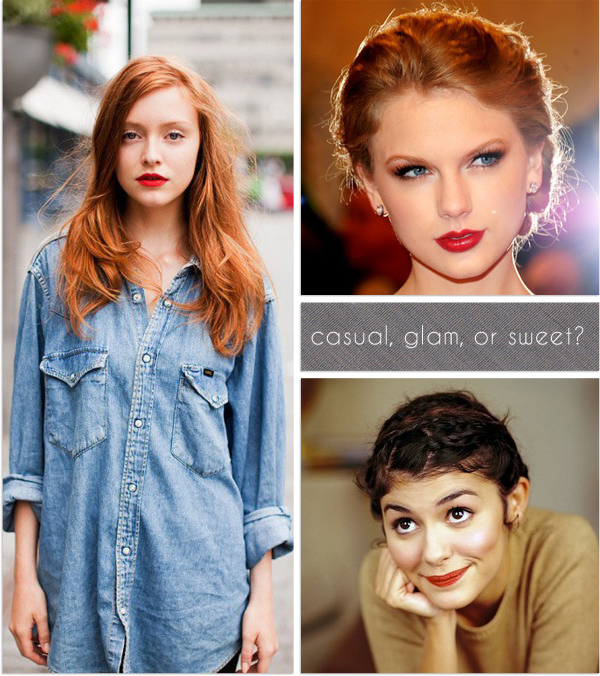 I'm ready for red! Do you have any suggestions?
A good place to start is MAC's Viva Glam I . It's a true brick red, and will suit everyone nicely. Plus the proceeds go to help people who are living with and/or are affected by HIV & AIDS. I am also a huge fan of MAC's Ruby Woo (a bright, velvety matte), and Diva (a deep, matte burgundy red that's gorgeous on darker skin tones). Want something more sheer, with a little bit of shine? Try Lady Bug (for pink undertones) or Spice It Up! (for olive undertones or darker skin).
Make Up Forever's Aqua pencils are to-die-for! I have told you this before! So pick up their 08C Red pencil. You won't be sorry. Their Lip Line Perfector is another good choice.
That is a good start for true reds.
Head to makeup counters or Sephora and try things on! Let the person working there help you, and if you aren't ready to buy yet, tell them. There is nothing wrong with wanting to test drive your sassy new mouth before you sign on the dotted line!
Next Monday, I will show you step by step, how to apply a bold lipstick. My first tutorial! Are you as excited as I am? Good! So go find a red you love, and then follow along with me next week as I show you how to put it on.
All photos via Pinterest.