Life has been pretty crazy since picking up and moving across the country. I was blessed to work on a really fun indie film all of November that I still need to tell you about! I will fill you in on that, and the rest of what I've been up to soon. I booked another film for January too. I love writing, and I love having this place to really share and connect with you all. But sometimes I am just without motivation and I can't put a paragraph together to save my life! So why force it!
I do want to say thank you for your constant support, love, and interest in my world.
And I hope you all are having the very best holiday season and are setting concrete goals for the new year. Follow your heart, and your dreams. The happiness that will follow is priceless.
I feel lucky for the opportunities I've had this year, and the generosities that have been bestowed upon me. And I'm passing a little of that onto you.
I have two gifts to give away to two of you guys! I recently reviewed a few accessories that Stilazzi sent to me. Now I have two of those goodies, brand new, to give to you!
First is the Clear Travel Bag.
Perfect for holding your toiletries during that trip around the world you are taking in 2012, or even to organize part of your makeup kit for all my fellow artists out there.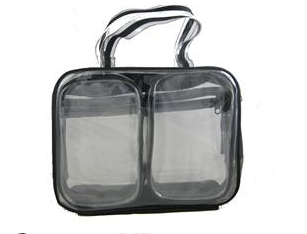 And second is the Portable Kleenex Holder.
This is probably more useful to makeup artists. I fill mine with a pack of makeup wipes and hang it off the back of the makeup chair. But this would also be great to just keep in your car. A constant cure for winter sniffles!
This contest is now closed.
Have a great New Years! Take is easy on the champagne and make sure you wash your face before you go to bed!
XO