Greetings from Warwick, New York! Since the beginning of November, I've been away working on an indie feature film! I'll be sure to fill you in on all that soon. My first day off I headed home and discovered a package from Stilazzi waiting for me. I was recently invited to be part of their beauty blogger program, and was so happy to have some goodies to take back to set with me! I've had some time to play with them while working during the last couple weeks. The products are great, and their customer service is stellar! But best of all, they are having a sale this entire weekend. 50% off everything, no promo codes needed. Just shop! So good.
While working on set, it is so important to not only have an appropriately stocked kit, but also great tools and accessories to help get the job done! Needless to say, I was more than happy to play with these goodies in the best scenario possible, on location for a film.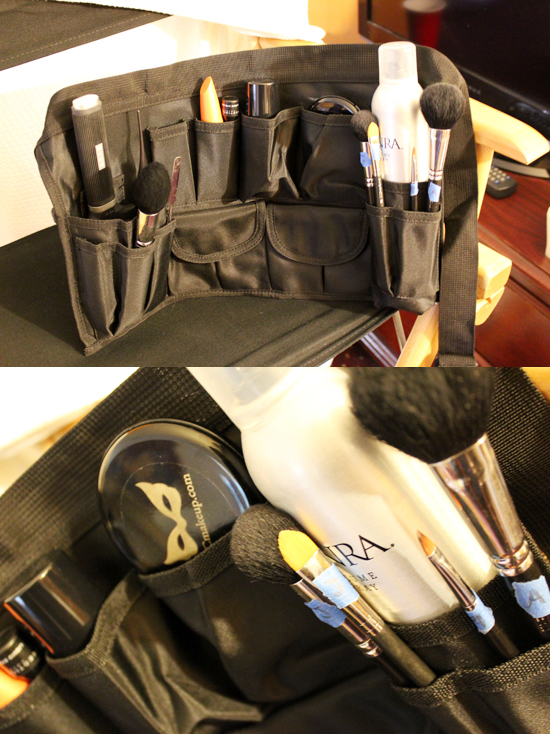 First up is the Makeup Tool Belt. It has a great waist belt, and multiple pockets of all sizes, some open, and some with velcro closures.
I'll be totally honest with you. I really like this. But, I'm not a huge fan of makeup/tool belts in general. I have two others, and I never use them. I actually have a set bag I bought at IMATS that I adore, and that has been the best thing to happen to me on set. But I will say I love how simplistic this is. I could see this working really well on a photo shoot with one or two models. Or even great for a hairstylist, to hold pins, combs, brushes, spray, etc. But for me, I have had multiple actors each day, and I don't find the pockets in this versatile enough for my needs on a film. I will utilize this in the future however, when I don't need to carry as many different things with me to set.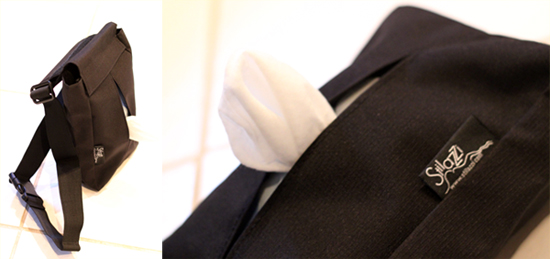 Next is the Portable Kleenex Holder . What you see is what you get! It has velcro on the back so I'm assuming this can attach to some other Stilazzi bags. The size however only fits the skinny tissue boxes. I only had the jumbo boxes with me. So I slipped a pack of makeup wipes in there instead! This came in really handy while on set. I used the waist belt to slip over the back of the makeup chairs most of the time. Rather than always wondering where they have been tossed after I or an actor used one, they were always right where I needed them. I also slung them over my shoulder for easy clean up during some scenes with bloody special effects makeup.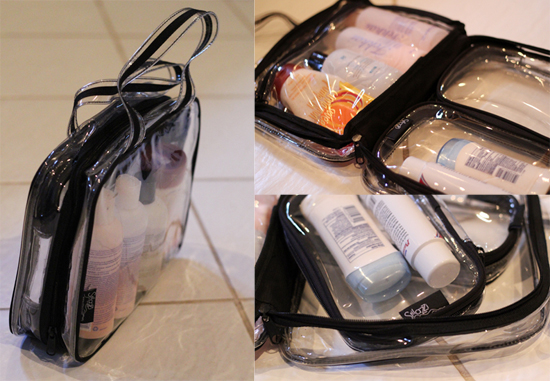 Last up is the Clear Actor/Travel Makeup Bag. Initially I was excited to organize the skincare, and face products in my kit into this. Then realized I really needed something to organize MY stuff while away on location. So it quickly became my spot for shower goods, personal makeup, etc. It is so versatile because you can really do whatever you want with it. I packed this puppy full! Pictured is only the start of it though. It has one big zippered pocket and two removable inner zippered pockets. And since it is completely clear, you can quickly and easily know what's inside without taking apart and opening it all up. Out of the three things I got, this is a stand out for me! A total must have.
Make sure you head to the Stilazzi website and check out their inventory. They have some great products for makeup artists and hairstylists, as well as the beauty savvy consumer. And with a 50% off sale going on til Monday, now is the time to snag some goodies for yourself or someone on your holiday shopping list!